With members joining us from departments all across campus, the UAW Local 4121 bargaining committee had its first meeting with the University's representatives to commence this year's contract negotiations.We presented the following initial proposals, which were ratified by an overwhelming 98% majority last week:
• Improve earnings and standards of living for all ASEs to keep pace with increases in cost of living, rising tuition and fees, work requirements, peer wages, and family/childcare-related costs.
• Secure improvements to the current health insurance program, such that: a) Services are adequately covered, including for vulnerable populations b) ASEs with extraordinary costs are protected c) Dependents are more affordably covered d) Plan Administration is improved.
• Ensure that ASEs' ability to maintain quality in their jobs is not hindered by inadequate staffing or resources.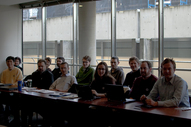 The bargaining committee and other 4121 members powerfully made the case that because Academic Student Employees provide over half of instructional contact hours and carry out much of the cutting-edge research that brings in over $1billion in research grants and contracts each year, UW's ability to maintain quality, access, innovation and its overall reputation as a world-renowned University depends on investing in ASEs. ASE members representing a diversity of departments and job titles spoke eloquently and forcefully about the importance of our work to UW and the critical connection between our bargaining demands and ASEs' daily lives.
The University's team responded by acknowledging the importance of our work, but at the same time referenced numerous "restraints" imposed by the upper administration. They did not have any proposals of their own, and initially indicated that they did not plan on proposing any significant alterations to our current contract.
However, after a short recess, the University's team told us they would need at least two weeks to respond to our proposal because members of their team had suddenly been tasked with modeling potential budget cuts of 15-30% beyond those in the Governor's proposed budget. This reportedly is part of UW Interim President Wise's strategic budget review process for the upcoming biennium.
Though this was only the first of numerous meetings we'll have over the next few months,  it's clear that we will need to continue to take action in a variety of ways to move the UW administration to agree to a fair contract this year.
In Solidarity,
UAW Local 4121 Bargaining Committee
David Parsons (English)
Jessica Pikul (Chemistry)
Evette Jasper (Education)
Dylan Mayer (Philosophy)
Lei Cheng (Mechanical Engineering)
Jean Dinh (Medicinal Chemistry)
Toni Ferro (Human Centered Design and Engineering)
Garrett Strain (Odegaard Writing & Research Center)
Phil Harding (Neurobiology and Behavior)