UAW 4121 members swept into action on very short notice this past President's day to stand in solidarity with Wisconsin workers.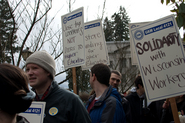 We joined hundreds of public employee union members to send a strong message to legislators to take a balanced approach to the budget.
Public sector workers and the state's most vulnerable are taking a disproportionate burden of budget shortfalls compared to the banks and corporations who helped create the economic crisis.  It's time to cut welfare for the wealthy by  ending unfair tax giveaways!