Rally for Tenants' Rights TODAY 10/21 at 1pm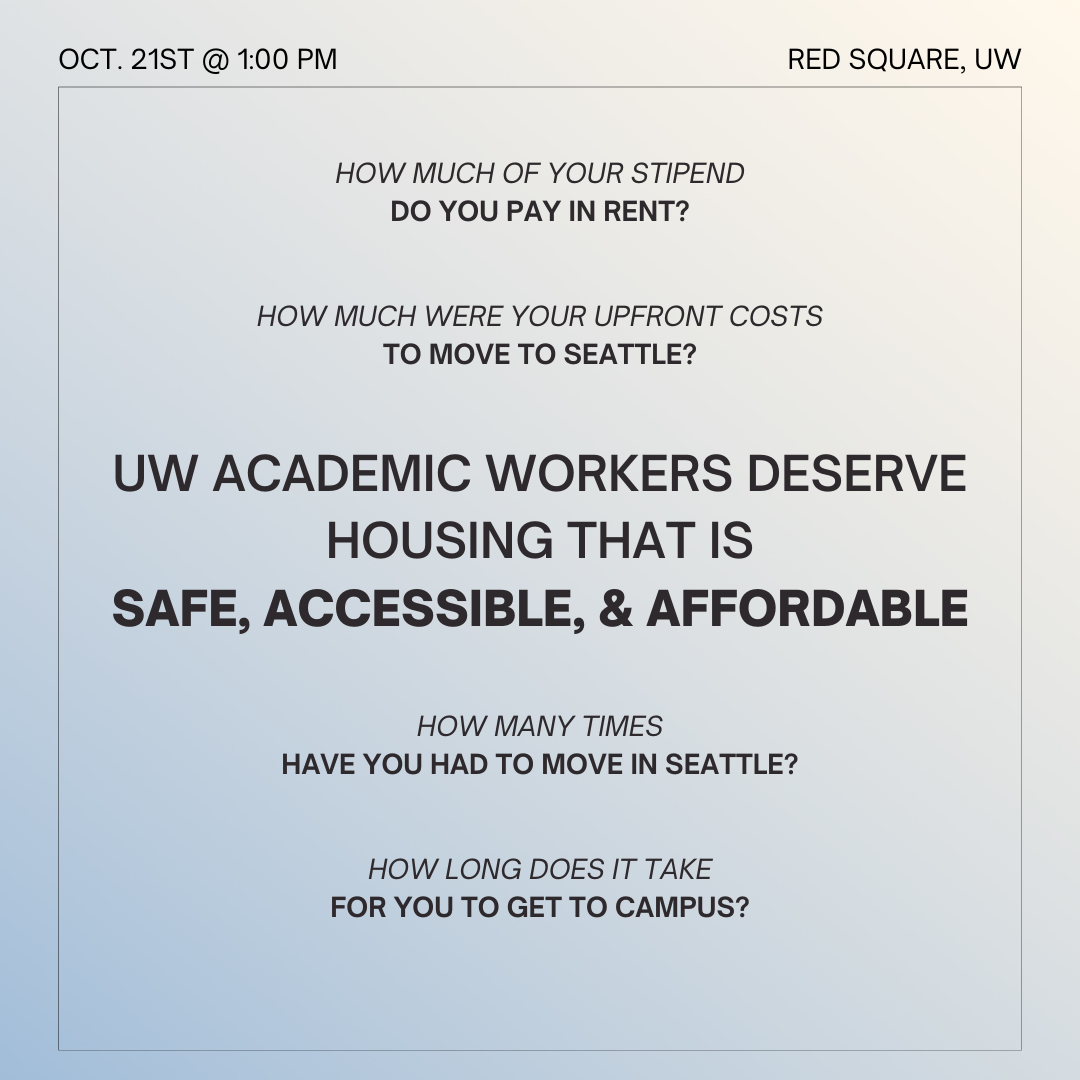 The housing survey that 4121 members organized last spring revealed many of our members experienced rent hikes and housing maintenance issues. Recently, UW announced that they are accepting bids to privatize four major student housing developments. Privatization will lead to increased rent costs and lower quality housing – amongst other issues. This is why today, October 21st at 1pm on Red Square, 4121 members are holding a Rally for Tenants' Rights to build our power and to fight back against this recent proposal. At the rally, we will have tenants' rights/organizing workshops, asynchronous brainstorming/collaborative activities, and speakers on the history of renters' rights in Seattle and UW's role in the local rental market. RSVP for the rally here!
Elections for Stewards and Vacant Joint Council Positions: 
Submit your name by this Sunday at 5pm
As a reminder, nominations for all Steward positions and several vacant Executive Board, ASE Head Steward, and Postdoc Head Steward positions in UAW 4121 are open, and will close on this coming Sunday, October 23rd, at 5:00 p.m. PDT. This is an opportunity to take a leadership position in your department and in our union. All Steward terms are ending so there are many open positions! There are also several open Joint Council positions — find more information here.
All members who are in good standing are automatically nominated for open positions in their department. This means that you do not have to be nominated by someone else–to run for the position, you simply have to accept your automatic nomination! To accept nomination, please fill out this google form by Sunday 10/23 at 5pm PDT. 
Ballots are out for UAW International Executive Board elections!
This week, ballots started going out for the first-ever direct election of UAW International Executive Board (IEB) positions! It's critical that every UAW member votes in this historic election. Mail in your completed ballot by November 18 to ensure it gets counted. 
Last Fall, UAW members across the country voted to establish direct elections for officers of the UAW International Executive Board (IEB). Under this new system, IEB members (including International President, Secretary-Treasurer, 3 Vice Presidents, and 9 Regional Directors) will be elected through Union-wide elections in which all UAW members are now able to directly vote for nominated candidates via mail-in ballot.
Ballots began to be mailed out to members on October 17. Completed ballots must be received (not postmarked) by the Federal Monitor overseeing the election by November 29. All members are strongly encouraged to mail your completed ballot in by November 18 to ensure it arrives in time to be counted. All UAW members in good standing as of October 31, 2022 will be eligible to vote.
Starting after October 24, you'll be able to track your voted ballot at http://uawvote.com/main.html.  If you do not receive a ballot in the mail by October 24, you may request one at http://uawvote.com/main.html or by calling 855-433-8683.
You can find information about the candidates, election rules, and more at the IEB Elections page on our website.
In Solidarity,
Justin Applegate
Ana Bennett
Erica Bigelow
Nick Bolten
Max Friedfeld
Colleen Hoffman
Levin Kim
Avi Matarasso
Nicel Mohamed-Hinds
Emily Myers
Amal Nanavati
Anzela Niraula
Marissa Parker
Mara Rafferty
Tahiyat Rahman
Anastasia Schaadhart
Audrey Seo
Jer Steeger
Sam Sumpter
Samantha Thompson
Natalie Wellen
Tricia Wu
Yuying Xie